Personalizing the New-Student Onboarding Experience
Notes from #HEWeb2015
These are notes from a talk by Mark Mazelin and Joshua Erlandson titled "Personalizing the New-Student Onboarding Experience" during the HighEdWeb 2015. Cedarville University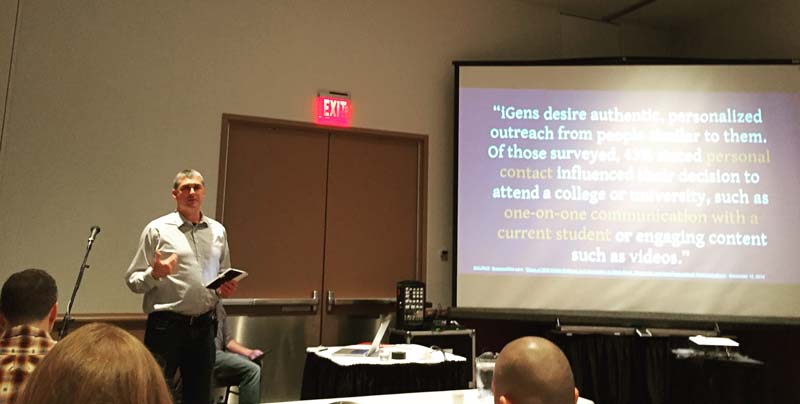 View Presentation:
http://www.cedarville.edu/Offices/Web-Development-Services/Presentations.aspx
Onboarding without Waterboarding (hahaha)
Why: the common goal is to move admitted students to matriculated students – to get them to board our train.
Change from a static site to a more dynamic and relational site.
Solution Key Tenants

Create our own private Facebook groups
Create a device-agnostic website
Centralize communication
feature their personal counselor

High School student Confusion: how do students want to be communicated to during the onboarding process? A personalized portal experience
Phase 1
Create a private Facebook group

establish community
increase relational touch points
got good participation

Some hurdles:

Normal vs App/Game group (used App/Game group)
You cannot just add users, the user has to authorize this action.
Phase 2
Communication and Personalization
Mapped out the rough wireframe and task flow

Four basic sections: quicklinks to resources, their admissions counselor, announcement section, then the personalize to do list of tasks.

Incorporated most of the original ideas into final product
Support for task dependencies
Tasks can be delivers on certain criteria (commuter, etc.)
Tasks that can autocomplete
Created layouts
Ending: Pilot Group: Selection of incoming students that we knew would come even if their MyCedarvill experience bombed.
Phase 3: Production
Surveyed the incoming class that went through the application.
Many of the students that came to campus ended up using the portal often.
Half gave their login to their parents.
Most connected with the Facebook group.
Email, Postcard and Texts were used to encourage people to log into the portal. Email was the most responded to and viewed as the most helpful.
Overall, the response was positive to the portal.
Communication plan phased in the tasks (so they weren't all in there at the start).
Version 2 and What's Next
Added more Google Analaytics event tracking
Expanded to handle future terms more gracefully.
Expanded to handle no valid applications.
Starting much earlier (fall instead of winter).
Rework the UI and backend (aiming for AngularJS and API which will enable a mobile app).
Broaden the types of notifications they can send (Facebook/Twitter/Text/Push/etc.)
Key Takeaways
Integrate Social media at a deeper level
Increase relational touch points
Evaluate data that can be personalized
Peace
– KS
Web Developer at Benedictine University near Chicago