The .edu Manifesto
Notes from #HEWeb2015
These are notes from a talk by Mark Greenfield titled "The .edu Manifesto" during the HighEdWeb 2015. University of Buffalo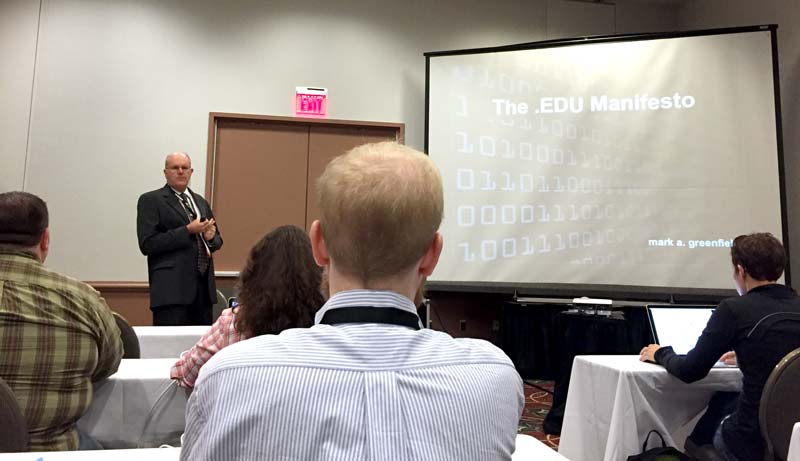 We've made a lot of progress, but still have more to do.
1. Why the web and digital matters to higher education
We take the web for granted.
University of Nebraska - 1.2 million visitors in a month (over 7M pageviews)
149,512 - the hours spent on the university's website in one month.
What would happen if your website disappeared tomorrow? Could your campus still function?
What will change?

The move from atoms to bits

Being Digital (book)
Everything that can become digital will become digital
The digital campus (teaching with technology)
What is the location of your campus? Not too long from now, the website will be the "location" of the campus.

Higher education is getting flattened

Tom Friedman's book "The World is Flat"; technology can make some industries obsolete.
Higher education is not likely to be obsolete, but I could become unrecognizable.
Deferred maintenance: the campuses are crumbling.
Digital is an opportunity to do things much more efficiently to improve our business models

The coming of the iGeneration: Student expectations are going to grow exponentially.
2. What we are doing wrong
Tremendous progress, but still a long way to go.
Mark's blog post "True of False: Most College Web Sites Are Bad"
Hubris: stick your head in the sand and don't think anything bad could happen. We are not too big to fail
Unique organizational structures and politics: it is in your best interest to understand how these structures work.
Over reliance on consensus decision making: with technology changing at exponential rates, it takes too long and often results in compromise.
Smashing Magazine - "Why Design By Committee Should Die"
Decisions are made on power, rather than expertise. Perhaps more prevalent in Higher Ed than most other verticals.
Hick's Law- The time it takes for a person to make a decision as a reult of the possible choices he or she has: increasing the number of choices will increase the decision making time exponentially.
Everytime you add an element to a webpage, every other element on the page is less importance.
The Web is Not a Project: a project has an ending.
3. How we can fix it.
Embrace your internal digital experts
Everyone should know what you don't know
Replace consensus decision making with RACI Matrix

R: Responsible- for performing the work
A: Accountable- for the final decision making authority
C: Consulted- will provide information and feedback
I: Informed- who are kept informed

Work closer with each other. "Managing Chaos"
Embrace the Post Launch Paradigm: once your whatever goes live, that is when the real work begins.
Is it asking too much for an institution of higher learning not to have spelling errors? It is a business risk, studies show some people will ch
Is your website better today than it was yesterday?
Practice Good strategy, eliminate bad strategy "Good Strategy Bad Strategy"
Actionable steps to leverage strengths to meet challenges
Holistic edu web site: intersection of Academics, MarCom, and Services.
Focus on value and return on investment: as you think about the work you are doing, are you actually working to solve problems?
User experience should be a priority
For many people, the process of visiting a college is still a challenge.
How good is good enough?
What keeps your college president up at night?
The View From the Top: the web can help address every one of these points.
"Time to start Thinking": Higher education used to be a public good, to build an educated workforce. Today, the focus is all personal, for me to get a better job.
Working in Higher Education
Go to your graduation ceremonies!
Peace
– KS
Web Developer at Benedictine University near Chicago