Metropolis and Gotham - Different Approaches to Enterprise Site Development
Notes from #HEWeb2015
Whew, I don't have the stats on here, but man what a HUGE project. Like Donald Trump HUGE.
These are notes from a talk by Jeff Stevens titled "Metropolis and Gotham, A Tale of Two Cities: Two Different Approaches to Enterprise Site Development" during the HighEdWeb 2015. University of Florida Health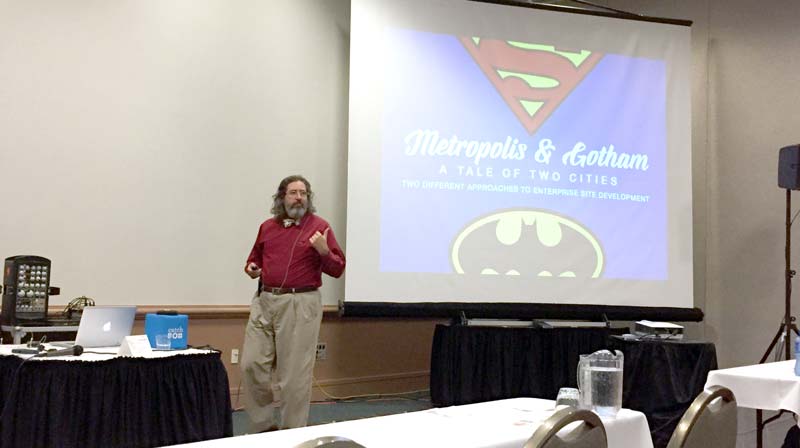 Two major projects: UFHealth.org (External Facing) & Bridge (Intranet)
UFHealth.org [Metropolis]
Unify Web Properties
Focus on Patients
Change starts at the top
… and then from deep within the organization
Senior Leadership must be able to recognize positive change, empower it, and embrace process and goals.
Committees are vital.

Champions of the goals, expertise, and process.
Choose people by expertise and skills over position.
Choose people that will help, not hinder.

Smart shared governance
Elevate Innovation
CMS Selection Committee
Select a team.
Design Committee (presented as if they were agencies)
Information Architecture Committee
Content and Governance Committee
After those committees were finished, they were reformed into smaller working groups.
80/20 rule, 20% of the people in the committees did 80% of the work and were chosen for the working group.
Web team served as consultants than as leaders of the committees, and served as the secretaries.
Show your work (tiered unveiling and iterative change)
Training on the new systems, lectures, emails, blogs, and 1 on 1
Lot of positive improvements in metrics (pageviews/patient appointments, etc.)
Rogues Gallery
Silos and Holdouts: Left them alone; eventually senior leadership applied the pressure.
Provided more Services/Support
Compromise
Time: Migration time was limited, but was mitigated by training.
Uniformity: stadard template, developed enough configurable options into the templates eventually. Vetted plugins
UF Bridge
Unify Intranets
News and Team Building
Because of the success of the UFHealth team, they were given the intranet project.
Built it on WordPress (BuddyPress)
Building a team: Existing team + an additional content coordinator
Do deep research: Nielsen Intranet Report, Interviews, Card Sorts
Did much of the process along.
Mitigating Annxiety: build buy-in
Development took 18 months, 9 months to migrate.
Rouges Gallery
Content and Governance: Content Audits; Training; New Structures and Procedures
Compliance
Team Burnout: since no one "cares" about the intranet…; more team building events; more communication from Senior Leadership; scope reduction
Information Architecture: Dynamic Site vs Quicklinks; Card Sorting and Curated Links
Tech Issues: Servers, On the Floor Interfaces; Solutions; Be agile; have teams ready
External sites: weren't able to do as much for the external sites during the project.
The Unexpected
Hybrid Approach
Magazine Theme: Second external facing theme that is for the magazines.
UF Health Directory: Ties in academic and patient areas for a unified directory.
UF Style Changes
SPEED
Both have the same goal: to help people. Make mistakes, better.
Peace
– KS
Web Developer at Benedictine University near Chicago