Bare Bones Content Strategy - Simple Ideas for Sustainable Change on the Web
Notes from #HEWeb2015
These are notes from a talk by Rick Allen titled "Bare Bones Content Strategy: Simple Ideas for Sustainable Change on the Web" during the HighEdWeb 2015. From Meet Content.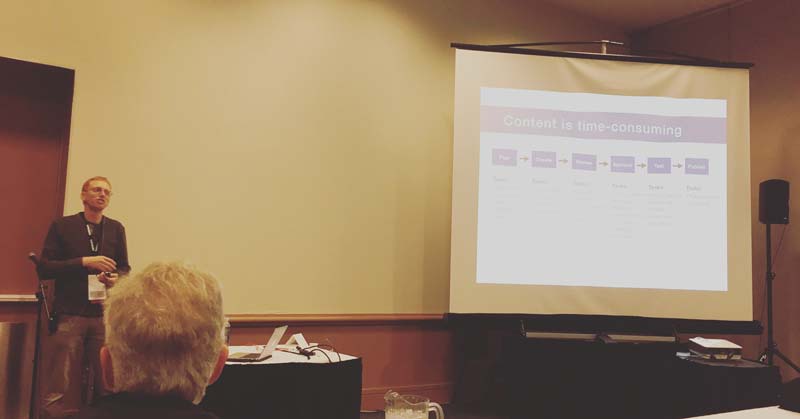 We should plan for simple.
Content strategy is simple.
But content is complex. Content is confusing. Content is time-consuming.
Complexity is often the problem (solving complex problems with complex solutions, but that is hard to sustain.)
Plan for Simple
Simple means that tasks are easily understood and done.
Not getting bogged down in difficult processes.
Understand the complexity we want to solve. It is hard to simplify if you don't understand the goals.
Conduct stakeholder interviews

schedule, listen and guide, decide what to ask.
purpose is to help define broad goals.
identify the themes and shared goals.
Learn the purpose and value of their content.

Understand the details
defining Content Goals, Examples:

Provide new student information, resources, encourage engagement.
Describe the distinguishing characteristic of the academic program
Inform Current Students about course scheduling and policies

Messaging Guidelines Examples

Transformative

Service Oriented, passionate, collaborative (define the jargon!)

Community Building
Valuable
Vibrant
Content Creation Workflow
Sample
Content Guides and tools
Making Content Guides Relevant
Content Guides and Tools

Page templates, Content Audits, Calendars, Schedules, Taxonomy, etc.
In the end, the best content strategy is the one that works for you.
Talk results, not content.
Don't talk about the process up-front.
If content strategy is working, it makes building content easier for everyone.
Speak human, use plain language. "I make sure the content is useful for the people who need it."
Help people understand how content strategy will help them.
Peace
– KS
Web Developer at Benedictine University near Chicago